SILVIO DEMORO
Bachelor Fine Arts 2023
HEAD-Genève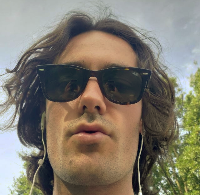 Né en 1996 à Nice en France, il vit et travaille à Nice.
Suite à l'obtention du Diplôme National d'Art (DNA) avec mention à la Villa Arson, il y poursuit son cycle d'étude en Master. Il est actuellement en échange au sein de la Haute école d'art et de design HEAD-Genève dans le département des Art visuels. Il a obtenu son Bachelor en juin 2023, dans l'option [inter]action. Il y poursuit ses études en filière Master.
Il mène une recherche plastique pluridisciplinaire touchant à l'écriture, à la composition sonore. Naviguant entre architecture numérique et dispositif installatif.
FORMATION
2023 : Bachelor Fine Arts Head-Genève
2022 – 2023 : Master – DNSEP / Villa Arson – Echange à la HEAD à Genève
2022 : Diplôme National d'Art – Villa Arson, France. (Mention)
EXPÉRIENCE PROFESSIONNELLE
Mai 2023 : Opéra Workshop avec l'artiste Gérald Kurdian (Belgique)
Novembre 2022 : Workshop avec l'artiste Claire Williams (Belgique)
Rencontre avec Nicolas Collins (USA)
Mars 2022 : Workshop avec Nicolas Armand (FR)
Centre National d'art Contemporain – Villa Arson
Octobre 2021 : Montage de l'exposition collective Construire sa prétendue et de l'expostion Beatrice Celli.
Démontage de l'exposition de l'artiste Otobong Nkanga When looking across the sea, do you dream ?
Septembre 2020 : Démontage de l'exposition de l'artiste Sol Calero Se empeñaban en tapar las grietas, pero las paredes seguían sudando
EXPOSITIONS
Juin 2023 : GRAND TOUR 2023 – Exposition des diplomé.e.x.s, HEAD – Genève.
Novembre 2022 : « Sleep pARTy People » – Exposition collective VR – Curateur Basile Brun. « Trombone » – Exposition Collective – Curateur.e.x Antoine Weil
LIVE SONORE
Janvier 2023 : « Voices of Light » présenté à Art's Birthday / RTS Culture, Genève.